Each year, the Greater Nashua Chamber of Commerce offers a year-long program, Leadership Greater Nashua. The program is geared towards emerging and established leaders in the Greater Nashua area. Participation in the program gives class members the opportunity meet other key industry and civic leaders from the Greater Nashua region while gaining a comprehensive and in-depth overview of the various elements of the community that make it such a great place in which to live, work, and raise a family. The class, in addition to getting an inside perspective on Greater Nashua's infrastructure, is given an opportunity to grow relationships with their peers and meet industry leaders and important constituents.
This year's class, the 26th of Leadership Greater Nashua, is made up of seventeen individuals representing a diverse cross-section of industries and organizations within the Greater Nashua region. Members of the Leadership Greater Nashua Class of 2021 include: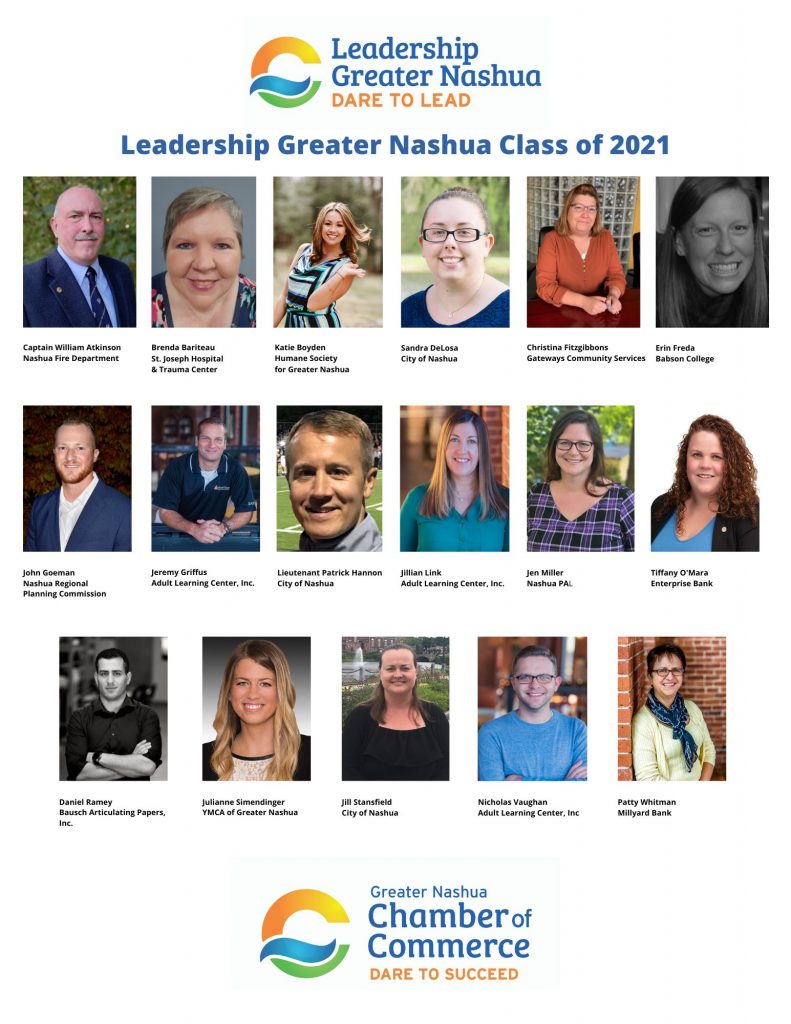 Captain William Atkinson, Nashua Fire and Rescue
Brenda Bariteau, St. Joseph Hospital
Katie Boyden, Humane Society for Greater Nashua
Sandra DeLosa, The City of Nashua
Christina Fitzgibbons, Gateways Community Services
Erin Freda, Babson College
John Goeman, Nashua Region Planning Commission
Jeremy Griffus, Adult Learning Center, Inc.
Lieutenant Patrick Hannon, Nashua Police Department
Jillian Link, Adult Learning Center, Inc.
Jen Miller, Nashua PAL
Tiffany O'Mara, Enterprise Bank
Daniel Ramey, Bausch Articulating Papers, Inc.
Julianne Simendinger, YMCA of Greater Nashua
Jill Stansfield, City of Nashua
Nicholas Vaughan, Adult Learning Center, Inc.
Patty Whitman, Millyard Bank.
At nearly 500 individuals collectively, LGN participants and alumni are among the most engaged, connected, and influential leaders in the Greater Nashua Region. They are leading companies, serving on boards, holding positions as elected officials at the State House and in local cities and towns, leading non-profits, and volunteering their time and talents to make a positive impact in the Greater Nashua community.
Kate Luczko, Chamber President and CEO, shares her thoughts on the program and class:
"As a graduate of Leadership Greater Nashua, I know the value of the program. It gives participants the tools and resources they need to have an in-depth understanding of Greater Nashua's cultural and economic opportunities as well as its civic and community needs. Students build on their existing strengths as leaders while growing their professional network. I am excited to get to know and work with this year's class, and to see what they will do in the future with all that they learn from the program. "
Leadership Greater Nashua 2021 is made possible through the generous support of Eversource Energy, the Exclusive Underwriting Sponsor for this year's program.